Welcome to Danielle's Dog Grooming Studio
CERTIFIED MASTER GROOMER IPG, ISCC
Danielle's Studio provides full service dog grooming for small dogs, one pet at a time. That time will be reserved exclusively for your dog and ensures that your baby will receive Danielle's personal care and undivided attention. A full consultation ensures that your wishes will be clearly understood.
You are invited to browse through our website. Every dog on this site has been groomed by Danielle MacDonald CMG, CMPS.
I am committed to giving each client the full benefit of my professional education, years of award winning grooming service and our state-of-the-art grooming studio.
I promise to make grooming a fun and safe experience for your pet. Your dog will always leave here feeling happy and looking great!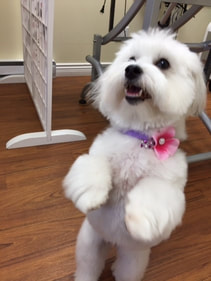 NEW CLIENT QUESTIONNAIRE ~
Are we a good fit for you?
Do you wish to commit to a pre-booked grooming schedule of two to six weeks?
Is your dog under twenty pounds?
​Does your dog deserve the best?​
---
If this is the type of dog grooming service that you have been looking for please leave a message on our voicemail with your name, phone number, your dog's weight and the weekly schedule you prefer.

​I do not answer the phone during grooming sessions with my furry clients, but your call will be returned by the end of the business day. I am looking forward to serving you and your pet!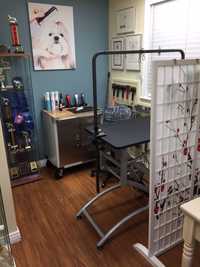 All inclusive grooming:
Nails, ears, bath, haircut
Premium, spa quality shampoos and conditioners
Oxygen-infused bathing​​
All dogs hand dried and scissor finished.​
Turn around time of two hours or less (for most grooms)
​Seasonal bows, bandanas
​Aromatherapy spritz
---
​CERTIFIED MASTER PET STYLIST and much more...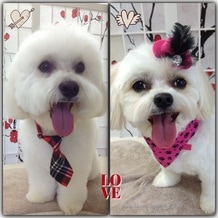 ​​​​​Certified Master Groomer IPG
​Certified Master Pet Stylist ISCC
Safety Certified Animal First-​Aid ​
Government Certified Academy Dog Trainer
Pet Massage Therapist
Pawspoint Reflexologist​​
Check out Danielle's full credentials ​ >>Meet The Groomer
​Read our >>Grooming REVIEWS!
---

We provide upscale daycare in The Zen Lounge
For the comfort and safety of your small dog on those days when you can't be there. Your baby will be safe and happy without being in a cage. Call for availability and reservations.

PET PARENTS & HAPPY PETS
PET STYLING BY DANIELLE
BEFORE & AFTERS