Welcome to Danielle's Dog Grooming Studio
Quality Grooming - Certified Master Groomer - Gentle Care
Danielle's Grooming is a private pet grooming salon in east Abbotsford. We cater exclusively to dogs under twenty pounds. Appointments are scheduled one pet at a time, so that each one receives Danielle's personal, undivided attention in our stress-free environment. ​A free consultation ensures that your wishes are always fully understood. Your dog will be pampered in our state-of-the-art Studio with top quality products and a relaxing hydro massage. Every dog is Special!
​CERTIFIED MASTER PET STYLIST and much more...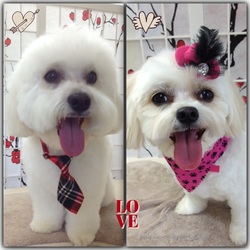 ​Certified Master Groomer IPG
Certified Master Pet Stylist ISCC
Animal First-​Aid Certified
Pet Massage Therapist
Pawspoint Reflexologist
Trainer, Gov't CERT Academy
Pet Advice columnist (formally with Petigree & Modern Dog Magazine​)
​
Check out our
Reviews
!
​
---
PET PARENTS & HAPPY PETS
PET STYLING BY DANIELLE
BEFORE & AFTERS